Carbide Recycling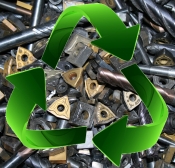 Your company can be enviromentally conscious and rewarded at the same time. Latest refining and crushing technologies provides top dollar to be paid for scrap or used Tungsten Carbide tooling.
We offer a complete return service for your used carbide. We will arrange collection and delivery of your used carbide and will reimburse you with either cash, account credit or tooling!
We are able to provide recycling containers, that can be postioned in mulitple locations around your workshop, enabling complete efficient tool usage without any hassle or down-time.